A new Consumer Unit,

(Fuse Board)

 - This is the latest in electrical protection for your home, this metal clad RCBO unit complies with the latest regulations. Know that in the future there is device in place that will protect your home and family from the risk of electric shock and fire, never change a fuse or fuse wire again simply flick a switch.

(Normal Value Installed £799.97)
Two Linked Smoke Detectors,

(not the cheap battery ones)

 - 

Ensuring that you can sleep soundly in the knowledge that should the worst happen you will be alerted in plenty of time. Every home should have at least one, we are offering two quality detectors linked to ensure your home is fully protected.

(Normal Value Installed £310.95)
Two Double USB Sockets, - 

Two double USB sockets to replace two existing sockets in your home in a place of your choosing. Put in a convenient location these USB sockets are ideal to charge mobile phones and tablet computers.

 

(Normal Value Installed £96)
A Six Year Insurance Backed Warrantee

 - 

Ensuring that all of our work is covered by a third party (the NICEIC) for a period of SIX YEARS, in simple terms you have nothing to worry about for six years all of the work we carry out is covered.

Pay your deposit via PayPal today & I will include the following Bonus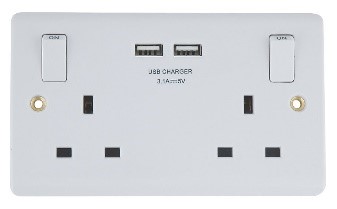 A Full Electrical Inspection

 - 

This added bonus will provide you with a six-page report on the condition of your electrical installation, imagine knowing exactly how well or sick your home is, a full explanation of the tests carried out and simple explanations, of any issues arising. Peace of mind that nothing about your home electrics will surprise you in the future.

 (Normal Value Installed £135+Vat)
Total value of this Ultimate Electrical Safety Package is £1215.27
You can have it All for ONLY £850
If you are serious about the safety of your home and the people in it then this offer is a no brainer. The New Consumer Unit (fuse board) alone would cost you £799.97. If you know that you need to upgrade, then take advantage of this offer now because...
IT CAN'T LAST FOREVER!
Terms and Conditions
Deposit of £255 can be paid via PayPal

Standard terms and conditions apply (Link to T+C's?),

Work is subject to survey and no major faults or non-compliances,

Faults can be fixed for an additional cost, if you don't wish to have faults fixed your deposit will be refunded and no further work undertaken,

Deposits will be returned via PayPal,

If property has insufficient/ earthing (bonding) this may incur an additional cost

Due to a recent change in regulations Surge Protection Device's (SPD's) are now advised to be installed if you wish to have one of these installed, they can be installed at an additional cost.
For our full terms and conditions click here